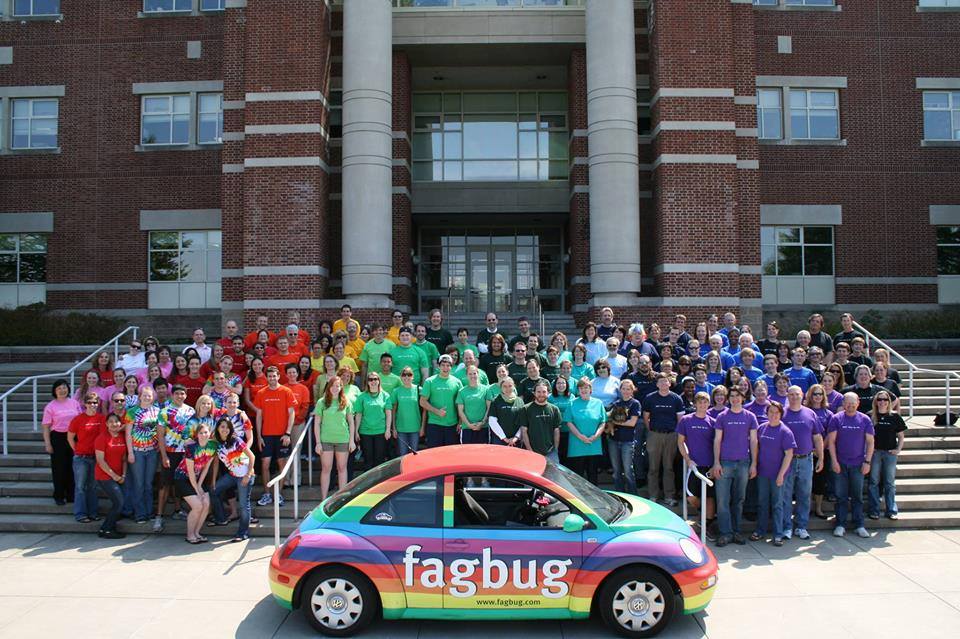 The mission of Fagbug is to raise awareness about hate crimes and homophobia, to give a voice for those who are silent, to inspire others to take a stand against bullying, to be an example of how to overcome obstacles in bringing a creative project to life, to bring accountability to anonymous acts of bias, and to normalize gayness through visibility and personal conversations one mile at a time.
The program consisters of Erin Davies' 1-hour humorous, and inspirational lecture (with film clips and Q & A) and/or film screening with Q and A, having the fagbug on display in a visible spot on campus (with an information booth) for picture taking and student engagement, and speaking in classes (optional).
Great for diversity groups, hate crime awareness, anti-bullying programing, empowerment and leadership training.
The Fagbug Program can be formatted for middle school, high school, college, and or business settings.
See Erin Davies present.
To bring Erin Davies and the Fagbug to your campus or event please send inquiries here.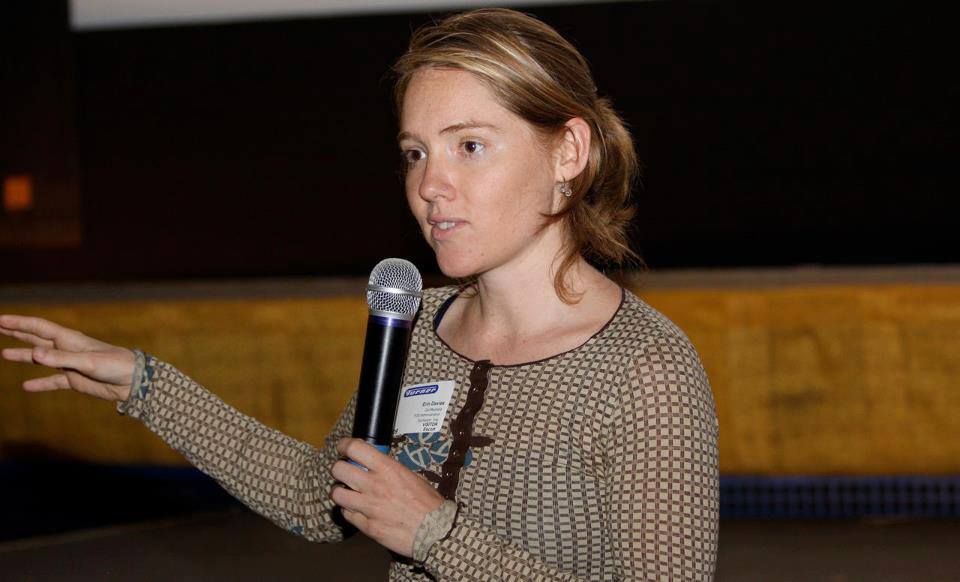 Speaking Engagements
May 28, 2015 - Jamesville Dewitt High School
May 5, 2015 - Utica Psychiatric Center
April 30, 2015 - SUNY Cobleskill
April 29, 2015 - SCCC
April 27, 2015 - SUNY Geneseo
April 22, 2015 - Northeast Ohio University
April 21, 2015 - Haverford College
April 20, 2015 - Cazenovia College
April 16, 2015 - Johnson State College
April 14, 2015 - Clarion University
April 7, 2015 - Northeast Wisconsin Tech
April 1, 2015 - SCCC
March 30, 2015 - SUNY Oswego
March 26, 2015 - SUNY POLY Institute
March 25, 2015 - Colgate University
November 14, 2014 - Palace Theater
November 12, 2014 - BNY Bank
November 11, 2014 - College of Staten Island
November 8, 2014 - Harmony Creek Church
November 7, 2014 - Northern KY U
November 6, 2014 - Oakland CC
November 4, 2014 - UW Superior
November 3, 2014 - UMN
October 31, 2014 - Spokane CC
October 30, 2014 - EOU
October 27, 2014 - Butte College
October 26, 2014 - Pagent Theater
October 25, 2014 - Bakersfield Church
October 23, 2014 - Westminster College
October 22, 2014 - WWCC
October 21, 2014 - U of C Co Springs
October 20, 2014 - U of CO Pueblo
October 18, 2014 - Equality House
October 16, 2014 - U of AL Birmingham
October 13, 2014 - Marshall University
October 10, 2014 - HACC Gettysburg
October 9, 2014 - PSU Wilkes Barre
October 8, 2014 - Anne Arundel CC
October 7, 2014 - CC of Baltimore County
October 6, 2014 - St. John Fisher College
October 2, 2014 - Iao Theater
September 25, 2014 - Kutztown University
September 24, 2014 - HACC York
September 19, 2014 - Mott CC
September 18, 2014 - Ferris State University
September 17, 2014 - Wealthy Theatre
September 16, 2014 - Lansing CC
September 15, 2014 - UM Dearborn
September 10, 2014 - Village Picture Shows
September 5, 2014 - CSBSJU
September 4, 2014 - UW Stout
September 3, 2014 - Winona State University
September 2, 2014 - Northland College
September 1, 2014 - Muffin Top Cafe
August 28, 2014 - Zinema Theater
June 28, 2014 - The Kentucky Theater
June 20, 2014 - The Paramount OKC
June 15, 2014 - Unity of The Keys Church
June 13, 2014 - Alexander's Guesthouse
April 17, 2014 - MVCC
April 15, 2014 - St. Lawrence University
April 3, 2014 - Charleston High School
April 2, 2014 - Eastern Illinois University
April 1, 2014 - Vincennes University
March 28, 2014 - Old Dominion University
March 27, 2014 - Delaware Valley College
March 25, 2014 - Carnegie Melon University
March 7, 2014 - Union College
March 5, 2014 - SUNY Adirondack
March 4, 2014 - Fulton Montgomery CC
March 3, 2014 - Clinton Community College
March 1, 2014 - Proctors Theater
November 13, 2013 - New England College
November 12, 2013 - U of NH at Manchester
November 8, 2013 - Docs In Progress
November 6, 2013 - SUNY Oneonta
November 4, 2013 - Albright College
October 28, 2013 - Hempfield High School
October 25, 2013 - University of South AL
October 23, 2013 - IN School For The Deaf
October 22, 2013 - Valparasio University
October 21, 2013 - UW Parkside
October 16, 2013 - UW La Crosse
October 15, 2013 - UW Eau Claire
October 14, 2013 - UW Stout
October 11, 2013 - Jefferson CC
October 10, 2013 - Canisus College
October 9, 2013 - Beacon Theater
October 8, 2013 - St. John Fisher
October 7, 2013 - RIT
October 3, 2013 - Herkimer CC
Sept 18, 2013 - SUNY Cobleskill
July 14, 2013 - American Culinary Institute
July 9, 2013 - Hackett Middle School
June 8, 2013 - OUT North Theater
June 8, 2013 - Alaska Pride Kick Off
May 30, 2013 - UW Bothell
May 29, 2013 - Centralia College
May 28, 2013 - EOSU
May 10, 2013 - Iao Theater
April 25, 2013 - Cal State Long Beach
April 24, 2013 - Cal State Northridge
April 23, 2013 - Cal State Monterey Bay
April 21, 2013 - Chico Funky Trunk
April 20, 2013 - Bakersfield Universalist Church
April 19, 2013 - Vegas NWCommunity Church
April 18, 2013 - Dixie State University
April 17, 2013 - Westminster College
April 16, 2013 - University of UT
April 15, 2013 - Utah State University
April 12, 2013 - Western WY CC
April 11, 2013 - University of CO
April 9, 2013 - University of S. Dakota
April 8, 2013 - The Grand Theater
April 7, 2013 - The Paramount OKC
April 6, 2013 - Wichita Club Fantasy
April 5, 2013 - Kansas University
April 4, 2013 - Western IL University
April 3, 2013 - Baldwin Wallace University
April 2, 2013 - Skidmore College
April 1, 2013 - Cazenovia College
March 27, 2013 - University of SC
March 26, 2013 - Coastal Carolina University
March 25, 2013 - Montgomery College
March 22, 2013 - Gettysburg College
March 21, 2013 - Lebanon Valley College
March 20, 2013 - SUNY Cortland
March 18, 2013 - Youngstown State University
March 15, 2013 - Lake Zurich High School
March 14, 2013 - Depaul University
March 13, 2013 - Halstead LGBT Center
March 13, 2013 - Waubonsee CC
March 12, 2013 - Roosevelt University
March 12, 2013 - Elign High School
March 11, 2013 - Joliet Junior College
March 8, 2013 - Bloomsburg University
March 7, 2013 - Abington Friends School
March 6, 2013 - TCCC
February 27, 2013 - George School
February 26, 2013 - Port Byron High School
February 21, 2013 - Muhlenberg College
February 19, 2013 - Elizabethtown College
February 18, 2013 - Perkiomen High School
January 29, 2013 - Darrow High School
January 24, 2013 - WCTCS
January 23, 2013 - Morehead State University
November 30, 2012 - Bennington College
November 27, 2012 - Shepherd University
November 16, 2012 - APSU
November 15, 2012 - Wright State University
November 14, 2012 - Miami University
November 13, 2012 - SVSU
November 9, 2012 - Wilkes Barre Club Twist
November 8, 2012 - University of Sciences
November 7, 2012 - East Stroudsburg U
November 6, 2012 - D'Youville College
November 5, 2012 - Ohio State University
October 26, 2012 - Nazareth College
October 25, 2012 - Jamestown CC
October 24, 2012 - Keuka College
October 23, 2012 - Kent State University
October 22, 2012 - Post University
October 19, 2012 - SUNY Binghamton
October 18, 2013 - Williams College
October 17, 2012 - Trinity College
October 16, 2012 - Avon Old Farms School
October 15, 2012 - Southern CT State
October 12, 2012 - Cornell University
October 11, 2012 - St. John Fisher
October 10, 2012 - BCBS Detroit
October 9, 2012 - Governor State University
October 8, 2012 - Carroll University
October 5, 2012 - Ferris State University
October 3, 2012 - ETSU
October 2, 2012 - UT Martin
October 1, 2012 - St. Charles CC
September 29, 2012 - LGBT Center of St. Louis
September 28, 2012 - Elizabethtown CC
September 27, 2012 - Ball State University
September 27, 2012 - Earlham College
September 26, 2012 - Vincennes University
September 25, 2012 - Vincennes University
September 24, 2012 - UT Manchester
September 20, 2012 - SUNY Brockport
June 6, 2012 - Tropic Cinema
June 6, 2012 - Key West Business Guild
May 23, 2012 - Westhill High School
April 13, 2012 - Buena Vista University
April 12, 2012 - Colorado State Pueblo
April 11, 2012 - SUNY Cortland
April 10, 2012 - HACC
February 24, 2012 - SUNY Albany
November 9, 2011 - Rockville High School
October 28, 2011 - Oswego Teen Health Conf
October 15, 2011 - Unspoken Film Festival
October 13, 2011 - Roanoke College
October 12, 2011 - Howard CC
October 11, 2011 - St. John Fisher
September 14, 2011 - Simmons Rock
August 18, 2011 - Augustana College
August 12, 2011 - OCO Diversity Training
June 8, 2011 - Foothills College
April 19, 2011 - Rowan College of NJ
April 18, 2011 - Penn State Erie
April 16, 2011 - Alfred State University
April 14, 2011 - Penn State Berks
April 12, 2011 - Michigan State University
April 11, 2011 - Northern Illinois University
April 8, 2011 - Grand Valley State University
April 6, 2011 - Carnegie Melon
April 5, 2011 - Penn State Harrisburg
March 23, 2011 - Florida State University
March 21, 2011 - Eckerd College
March 14, 2011 - Plymouth State
March 8, 2011 - SUNY Platsburgh
February 24, 2011 - Penn State Fayette
February 23, 2011 - Alleghany College
February 18, 2011 - Auburn Alternative School
November 18, 2010 - SUNY Oswego
November 16, 2010 - Albright College
November 15, 2010 - Moravian College
November 9, 2010 - SUNY Rockland CC
November 8, 2010 - TCCC
November 5, 2010 - Whitworth University
November 4, 2010 - Central WA University
November 2, 2010 - SUNY Upstate
October 29, 2010 - Oswego Camp Hollis
October 28, 2010 - Penn State Schuylkill
October 26, 2010 - IPFW
October 22, 2010 - Rhodes College
October 20, 2010 - U of TX San Antonio
October 19 , 2010 - U of TX San Antonio
October 18, 2100 - Texas A & M Corpus Christi
October 14, 2010 - SUNY Albany
October 13, 2010 - UMASS Lowell
October 12, 2010 - St. John Fisher
October 11, 2010 - St. John Fisher
October 7, 2010 - Documentary House
October 6, 2010 - Nellies DC Bar
Sept 11, 2010 - Sisterspace
July 15, 2010 - Syracuse Palace Theater
July 14, 2010 - Rochester Little Theater
June 25, 2010 - Wealthy Theater
April 27, 2010 - Oswego High School
April 21, 2010- Kent State
April 16, 2010- Clarion University
April 15, 2010- Bucknell University
April 14, 2010- Ursinud Colleges
April 8, 2010- Washburn University
April 5 + 6, 2010 - Jamesville Dewitt HS
April 1, 2010 - Syracuse University
March 31, 2010 - Syracuse Q Center
March 31, 2010 - Syracuse University
March 29, 2010 - Wake Forest University
February 26, 2010 - GSA Summit
February 9, 2010 - U of British Columbia
February 6, 2010 - University of Colorado
February 5, 2010 - University of Colorado
November 16, 2009 - Susquehanna University
November 3, 2009 - Bates College
October 22, 2009 - Alfred University
October 20, 2009 - Alabama University
October 17, 2009 - Reel Affirmations Film Fes
June 20, 2009 - Syracuse Artrage Gallery
June 14, 2009 - Rockland Pride
June 11, 2009 - Troy Photo Center
May 30, 2009 - Birmingham GLBT Film Festival
May 28, 2009 - TNT Headquarters
May 28, 2009 - Atlanta GLBT Film Festival
May 20, 2009 - Bethlehem Colonial Theater
April 29, 2009 - Albany Spectrum Theater
April 20, 2009 - SUNY Albany
April 15, 2009, - Yale University
March 21, 2009 - East Lansing Film Festival
March 20, 2009 - Western Michigan University
March 3, 2009 - Foursite Film Festival
February 23, 2009 - Boston University
December 23, 2008 - Rensselaer High School
December 11, 2008 - Poughkeepsie HS
November 19, 2008 - Scotia High School
November 7, 2008 - Avon Old Farms School
November 7, 2008 - Williams School
October 30, 2008 - SUNY Albany
October 29, 2008 - Simons Rock
October 16, 2008 - FMCC
October 15, 2008- Misericordia University
October 14, 2008 Wilkes University
October 13, 2008 - U of Missouri St. Louis
October 10, 2008 - U of IL Springfield
October 9, 2008 - Fontbonne University
October 8, 2008 - U of WI Parkside
October 6, 2008 - Ball State
October 3, 2008 - Vassar College
October 1, 2008 - Hanover College
September 29, 2008 - NC State
September 27, 2008 - North Carolina Pride
May 15, 2008 - Duanesburg High School
April 30, 2008 - Union College
April 28, 2008 - SUNY Oneonta
April 25, 2008 - Cornell University
April 24, 2008 - Landsingburg High School
April 23, 2008 - Mohonasen High School
April 23, 2008 - Guilderland High School
April 21, 2008 - Fagbug Anniversary Event
April 16, 2008 - Sage College
April 14, 2008 - University of South Carolina
April 11, 2008 - University of Illinois - Urbana
April 9, 2008 - UW Stevens Point
April 8, 2008 - UW Milwaukee
April 7, 2008 - UW La Crosse
April 3, 2008 - University of Central Arkansas
April 2, 2008 - Emory College
April 1, 2008 - University of Georgia
March 31, 2008 - Francis Marion University
November 29, 2007 - Depauw University
October 22, 2007 - Volkswagen of America
October 18, 2007 - University of IL at Chicago
October 17, 2007 - Harper College
October 12, 2007 - Wartburg College
October 11, 2007 - Drake University
October 8, 2007 - Greenville 7 Days 7 Nights
September 7, 2007 - Albany Youth Group
August 29, 2007 - Saratoga Youth Group
August 27, 2007 - Sage College MTA Class
August 19, 2007 - Allentown Pride
August 13, 2007 - Chicago Freedom School
August 12, 2007 - Chicago's Church For Me
August 10, 2007 - Madison Police Depart
July 27, 2007 - Vegas Beauty Bar
July 22, 2007 - San Diego Pride
July 18, 2007- Flagstaff Campus Coffee Bean
July 1, 2007 - Columbia Vigil for Sean Kennedy
June 28, 2007 - Myrtle Beach Center Project
June 18, 2007 - NYS Workers
June 16, 2007 - Pittsburgh Pride
June 6, 2007 - Union College
May 23, 2007 - Guilderland High School
May 1, 2007 - Sage Colleges
April 30, 2007 - Sage College Solidarity March
April 21, 2007 - Sage College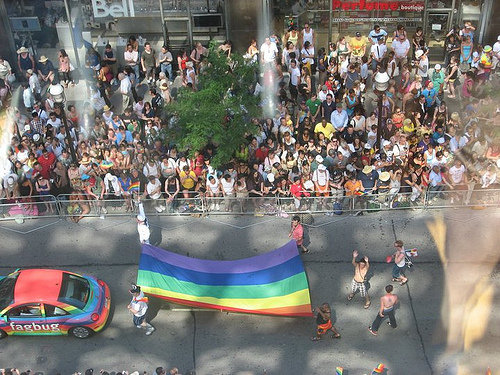 Gay Prides/Special Appearances
April 25, 2015 - West Genessee Prom
August 31 , 2014 - Duluth/Superior Pride
August 30, 2014 - Duluth/Superior Pride
August 29, 2014 - Duluth/Superior Pride
June 29, 2014 - Lexington Pride
June 28, 2014 - Lexington Pride
June 15, 2014 - Key West Pride
June 14, 2014 - Key West Pride
June 8, 2013 - Alaska Pride
April 13, 2013 - SLC Club Jam
April 6, 2013 - Equality House
February 24, 2013 - Coleman's Beer Parade
September 11, 2012 - PS Gay Car Music Video
June 10, 2012 - Key West Pride
February 19, 2012 - Coleman's Beer Parade
August 20, 2011 - South Dakota Pride
July 18, 2011 - South Dakota Pride
July 17, 2011 - Rochester Pride
July 16, 2011 - Rochester Pride
June 18, 2011 - Syracuse Pride
August 15. 2010 - Montreal Pride
July 24, 2010 - Harrisburg Pride
July 18, 2010 - Rochester Pride
July 17, 2010 - Rochester Pride
July 4, 2010 - Toronto Pride
June 26-27 - Chicago Pride
June 19, 2010 - Syracuse Pride
June 11-13, 2010 - Milwaukee Pride
June 20, 2009 - Syracuse Pride
June 14, 2009 - Rockland Pride
September 27, 2008 - NC Pride
August 26, 2008 - Charlotte Pride
June 8, 2008 - Albany Pride
September 22, 2007 - SC Pride
September 15, 2007 - Peterborough Pride
August 19, 2007 - Allentown Pride
August 12-13, 2007 - Halstead Market Days
August 12, 2007 - Halstead Market Days
August 5, 2007 - Vancouver Pride
July 21, 2007 - San Diego Pride
July 15, 2010 - Colorado Springs Pride
June 30, 2010 - St. Pete Pride
June 24, 2007 - NYC Pride
June 16, 2007 - Pittsburg Pride
June 10, 2007- Albany Pride
June 9, 2007 - Syracuse Pride
June 2, 2007 - Buffalo Dyke March