"Fagbug Nation" Sequel Documentary ©2014
Release Date: December 2, 2014
"Fagbug Nation" takes you behind the wheel of what it's like to drive the once vandalized, now famous, "Fagbug." With six years of touring under her belt, director Erin Davies ("Fagbug," 2009, Netflix) has her mind set on getting her car to all 50 states, Hawaii and Alaska being the final two. To pull this off, Erin went 54 days without a car, put her car on 5 boats, and flew on 14 planes. The Fagbug gets leis'd in Hawaii and drives through the midnight sun to Alaska, but first makes a pit stop at the Equality House in Topeka, Kansas. Watch as this rainbow-colored Beetle serves as a catalyst for our nation on the road to equality. Watch the teaser trailer, trailer, music video, or movie. To purchase the DVD go here.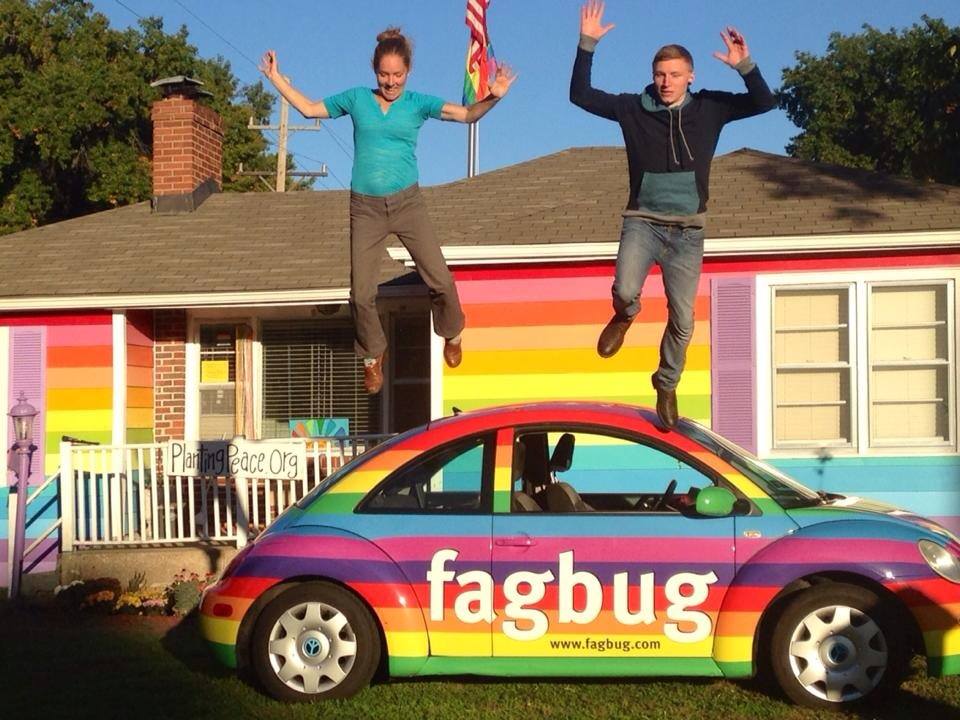 Reactions to "Fagbug Nation"
"I cried when I watched it. It's absolutely wonderful, magnificent, and simply beautiful." - Hailey Bryce-Mabry
"An important and inspirational documentary, especially for those who are struggling to find peace with whatever situaiton they find themselves in. Erin Davies does an amazing job of finding support for the LGBTQ+ community in the most unlikely places. I definitely recommend watching this film." -Sharon Suchecki
"Fagbug Nation" shines light on the battle we're still fighting with bullying, the completion of Fagbug's 50 state journey, and the courage it takes to travel across the country inside a rainbow on wheels." -Nicholas Mertz